Home
/
Answered Questions
/
Other
/ following-are-the-transactions-of-dennen-inc-for-the-month-of-january-borrowed-26-500-from-a-local-b-aw111
(Solved): Following Are The Transactions Of Dennen, Inc., For The Month Of January. Borrowed $26,500 From A Lo...
---
Following are the transactions of Dennen, Inc., for the month of January.
Borrowed $26,500 from a local bank.

Lent $10,000 to an affiliate; accepted a note due in one year.

Sold to investors 100 additional shares of stock with a par value of $0.10 per share and a market price of $20 per share; received cash.

Purchased $31,000 of equipment, paying $5,600 cash and signing a note for the rest due in one year.

Declared and paid $1,500 in dividends to stockholders.
For each of the preceding transactions, record the effects of the transaction in the appropriate T-accounts and determine ending account balances. Beginning balances are provided.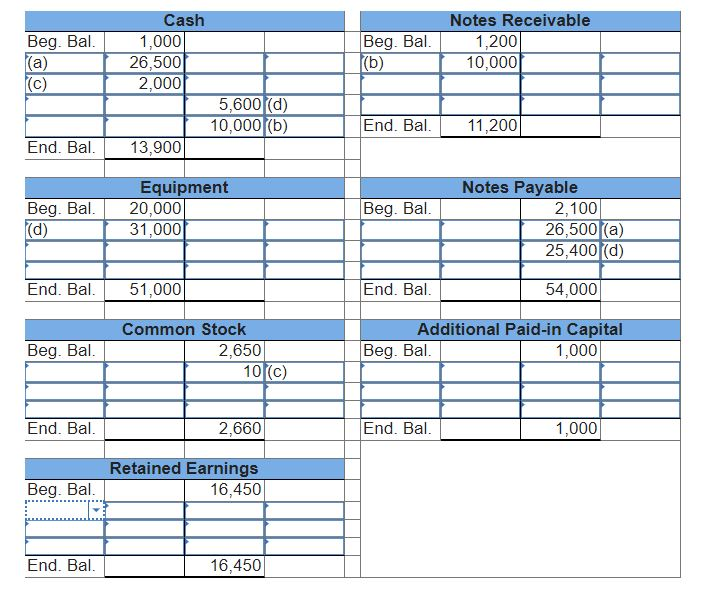 Beg. Bal. Cash 1,000 26,500 Beg. Bal. f(b) 1.200 10,000 (C) 10,000f(b) End. Bal. 11.200 End. Bal. f 13,900 Equipment 20,000 31,000 Beg. Bal. (d) Beg. Bal. Notes Payable 2,100 26,500 (a) 25,400 (d) End. Bal. 51,000 End. Bal. 54,000 Common Stock 2,650 101(c) Additional Paid-in Capital Beg. Bal. 1,000 Beg. Bal. End. Bal. 2,660 End. Bal. 1,000 Retained Earnings 16,450 Beg. Bal. End. Bal. 16.450