Home
/
Answered Questions
/
Other
/ please-answer-the-following-question-and-please-show-work-thank-you-in-advance-for-all-you-hard-work-aw183
(Solved): Please Answer The Following Question And Please Show Work. Thank You In Advance For All You Hard Wor...
---
Please answer the following question and please show work.
Thank you in advance for all you hard work.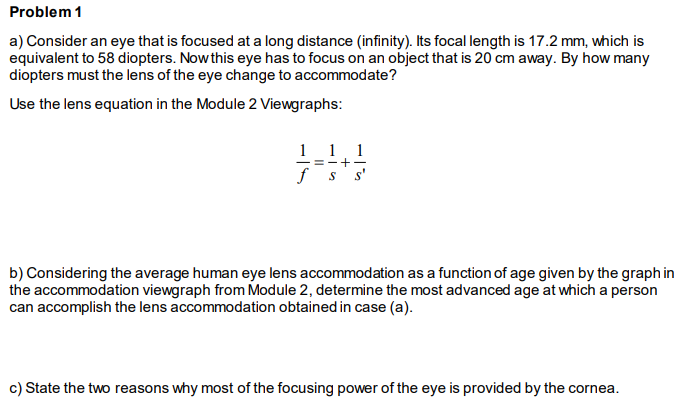 Problem 1 a) Consider an eye that is focused at a long distance infinity). Its focal length is 17.2 mm, which is equivalent to 58 diopters. Now this eye has to focus on an object that is 20 cm away. By how many diopters must the lens of the eye change to accommodate? Use the lens equation in the Module 2 Viewgraphs: 1 1 1 = = - +- fS S b) Considering the average human eye lens accommodation as a function of age given by the graph in the accommodation viewgraph from Module 2, determine the most advanced age at which a person can accomplish the lens accommodation obtained in case (a). c) State the two reasons why most of the focusing power of the eye is provided by the cornea.